PUPPY REFERRAL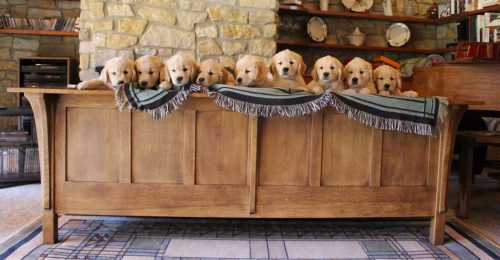 OUR GOAL: To provide you with education and guidance in acquiring a Golden Retriever puppy.
Learning more about Golden Retrievers and how to select a reputable breeder is an important commitment.
We offer the following educational sites to provide you with sound guidance and information.
We suggest you start with the website of our parent club, the Golden Retriever Club of America (GRCA). The GRCA site includes such important information as:
Member Code of Ethics – this will help you understand some of the subjects our club feels are important.  Also, it provides some guidance into what to expect when you contact a breeder for information.
Health issues
How to verify health clearances
Finding a Responsible Breeder
How to screen breeders
What to know before purchasing a puppy
For local breeder information and current litter availability, please contact:
Cheri Stager 810-367-3273
FDGRC Puppy Referral Volunteers
As a point of courtesy, please be aware that you will be contacting these people at their home. Please call during normal business hours and be aware that Michigan is in the Eastern Time Zone. It will not be necessary for you to call both of these volunteers. They share the same information.
Please note that the puppy referral volunteer can not put you on a waiting list, and call you when litters are listed. Time and financial constraints do not allow us to return phone calls. We encourage you to be patient, as we will do our best to help you find a wonderful new companion.  Please also be aware we have no way of knowing in advance when a litter will be listed, and availability is usually far less than demand.
For other area club's breeder contact information:
• Marshbanks GRC
• Mid-Michigan GRC
Other interesting websites to visit:
• Finding a responsible breeder-myths and facts
• Show dogs versus pet dogs
• How to groom your Golden
These referrals are provided as information only. Fort Detroit Golden Retriever Club is unable to do site inspections of breeders receiving referrals from the Club. We are not responsible for the physical condition and health of the puppies, the breeder's adult dogs, or the breeder's premises. Fort Detroit is not responsible for the breeder's sale practices and sales contracts, nor will we be involved in any manner in contract disputes between puppy buyers and breeders. Availability of puppies and conditions of sale are at the sole discretion of the individual breeder. Buyers are encouraged to take as much time as necessary to locate a reputable breeder from whom they feel comfortable purchasing a puppy, and to investigate breeders and their puppies thoroughly before committing to a purchase.
REQUIREMENTS FOR FDGRC BREEDERS TO USE
FDGRC PUPPY REFERRAL
The objects of the Club shall be:
To encourage members to strive to perfect pure-bred Golden Retrievers that possess the temperament, soundness, natural ability, intelligence and balance that are representative of the breed, and to do all possible to advance the development of these essential qualities.
To urge members and breeders to accept the standard of the breed as approved by The American Kennel Club as the only standard of excellence by which the Golden Retriever shall be judged.
To do all in its power to protect and advance the interest of the breed by encouraging members and others to follow the Club's guidance in breeding practices, and to encourage sportsmanlike participation at dog shows, field trials and tests, obedience trials and tracking tests.
To have fairness to all members using Puppy Referral:
Members MUST be in good standing with FDGRC
Members MUST attend 3 Membership Meetings during year
Members MUST volunteer and actually work at a MINIMUM of one FDGRC Event. Currently, the events available are:

FDGRC Specialty Event
FDGRC Agility Event

All Clearances, including Pedigree of Dam and/or Stud Dog must be sent to Puppy Referral prior to any referrals made
Members owning Stud Dogs who have been bred to Non-Members can request Puppy Referral for that litter, but must follow the above requirements
MUST meet GRCA's requirements to breed your dogs
OFA Clearances for Hips, Heart, Eyes & Elbows at the very least
Heart Clearance MUST be done by Board Certified Cardiologist, NOT a regular Veterinarian
Eye Clearances MUST be done by Board Certified Optometrist, NOT a regular Veterinarian
If litter becomes ill, they will be removed from Puppy Referral until Veterinarian check and release
IF any of the above requirements are not met, members will NOT be eligible to have their litters referred from Puppy Referral.