MEMBERSHIP INFO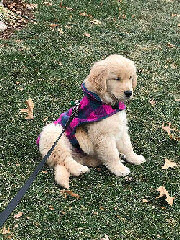 Membership in the Fort Detroit Golden Retriever Club is open to any person actively interested in promoting the aims of the Club, i.e., careful and restrictive breeding of genetically sound, instinctive and temperamentally balanced Golden Retrievers.
The Club meets monthly for Golden Retriever related activities such as field training sessions, informal and AKC sanctioned matches, obedience and conformation work, specialty point events, working certificate tests, tracking tests and educational presentations.
The key word in the above outline is ACTIVE. We are not just a social club, although there is much sociability. Persons who wish to become active members are invited to subscribe to our Club Newsletter, which has information about our activities. Anyone is welcome. If after attending at least three of our meetings within twelve months you find yourself in accord with our aims, we invite you to submit an application form to the Board of Directors. Please include on the back of your application form the activities you have attended, and be sure that you sign the attendance roster any time you attend a meeting. Click to see Membership Application Form.  Click to see FDGRC CONSTITUTION & BY-LAWS.
SUBSCRIPTION RATES:
$10.00 per year – Open to everyone – This is NOT membership. Please make checks payable to FDGRC and send to the Newsletter Editor.
MEMBERSHIP RATES:
Individual: $25.00 per year
Family (2 people):$30.00
Associate: $20.00
Obtain forms from Treasurer, Secretary, or this website.
ADVERTISING POLICY:
Open to members only. All advertising to be in "Classified Ad" style. Minimum cost is $2.00 for 4 lines, maximum of 6 lines for $3.00. For Golden Retrievers only . Member owned adults or litters from member owned bitches; dog related services and items excepting stud service.