Welcome 
The Fort Detroit Golden Retriever Club (FDGRC) was established in 1956.  The Club has been busy ever since providing educational meetings and events to promote the golden retriever breed.

Program meetings are held the 3rd Tuesday of the month in March, April, May, September, October, and November.  The Annual Meeting/Awards Banquet is held in January.  Unless otherwise noted (see calendar for details), the meetings start at 6:15 – 9:00 PM and are held at the Rochester Hills Public Library 500 Olde Towne Road Rochester, MI  48307
. 
Guests are welcome!
FDGRC BOARD & MEMBERSHIP MEETINGS WILL BE HELD AT LEADER DOG IN ROCHESTER AGAIN!
SEPTEMBER 19, 2023 BOARD & MEMBERSHIP MEETING
LEADER DOGS FOR THE BLIND
1039 SOUTH ROCHESTER ROAD
ROCHESTER HILLS, MI 48307
Park in front of the large building on the left (the Canine Development Center).
Enter through the glass doors
BOARD MEETING 6PM – 7PM
MEMBERSHIP 7PM – 9PM
WE ARE HAVING DANA HUNTER FROM LEADER DOG AS OUR GUEST SPEAKER
SHE WILL SPEAKING ABOUT THE LEADER DOG BREEDING PROGRAM
DANA WILL ALSO GIVE US A TOUR OF THE LEADER DOG FACILITY
PLEASE MARK YOUR CALENDAR & JOIN US!!!
DON'T MISS OUR FDGRC AGILITY TRIALS
October 20, 21, & 22, 2023 All Breed Agility Trials
All Dogs Can in Lapeer, MI
Entries open:   2023 – 8:00am
Entries close:  2023  – 11pm

Click below for Premium List:
MISSION STATEMENT:

To encourage members to strive to perfect pure-bred Golden Retrievers that possess the temperament, soundness, natural ability, intelligence and balance that are representative of the breed, and to do all possible to advance the development of these essential qualities.

To urge members and breeders to accept the standard of the breed as approved by the American Kennel Club as the only standard of excellence by which the Golden Retriever shall be judged.

To do all in its power to protect and advance the interest of the breed by encouraging members and others to follow the Club's guidance in breeding practices, and to encourage sportsmanlike participation at dog shows, field trials and tests, obedience trials and tracking tests.

To offer all events for which the club is eligible under the rules and regulations of The American Kennel Club and the Golden Retriever Club of America.

IMPORTANT ANNOUNCEMENT:
The Golden Retriever Foundation (GRF) has started a program to pay for the CERF/ECR registrations for senior Golden Retrievers (over 8 years old).  
Click for details
GRF
.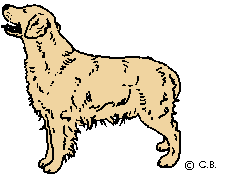 ,