Welcome 
The Fort Detroit Golden Retriever Club (FDGRC) was established in 1956.  The Club has been busy ever since providing educational meetings and events to promote the golden retriever breed.

Program meetings are held the 3rd Tuesday of the month in March, April, May, September, October, and November.  The Annual Meeting/Awards Banquet is held in January.  Unless otherwise noted (see calendar for details), the meetings start at 7:00 PM and are held at the Canine Development Center of 
Leader Dogs For The Blind
 on the southeast corner of Avon and Rochester Roads in Rochester Hill, MI.  
Click for
Map and
Directions
.
Guests are welcome!
PLEASE NOTE – OUR MEETINGS HAVE BEEN CANCELLED DUE TO THE CORONAVIRUS CONCERNS
Please see the new update on our Field News Page for the 2021 field training dates!
DUE TO CORONAVIRUS CONCERNS,
FDGRC CONFORMATION SPECIALTIES FOR APRIL, 2021
HAVE BEEN CANCELLED.
WE ARE HOPING TO STAY ON SCHEDULE WITH
OUR TWO SPECIALTIES & SWEEPSTAKES FOR
SEPTEMBER 17, 2021
AT GOODELLS, MI
WE WILL UPDATE AS SOON AS WE CAN CONFIRM
WE ARE HAPPY TO ANNOUNCE THERE WILL BE A HEART & EYE CLINIC HELD IN MICHIGAN ON
MAY 21 & 22, 2021. 
THE CLINIC WILL BE HELD AT
SCHNELLENBERG KENNELS
15730 26 MILE ROAD
MACOMB, MI 48042 
WITH THE COVID PANDEMIC AND LIMITED DOG SHOWS, IT'S BEEN VERY DIFFICULT TO FIND ANY APPOINTMENTS AVAILABLE TO GET THE CLEARANCES NEEDED FOR OUR DOGS.  I'M SURE YOU MAY WANT TO BE ABLE TO TAKE ADVANTAGE OF THIS.  HERE IS THE LINK TO THE FLIER:
Don't miss our AKC All-Breed AGILITY TRIALS
FORT DETROIT GOLDEN RETRIEVER CLUB, INC.
2021 SCHEDULE:
All Dogs Can in Lapeer, MI
Entries open August  2021 
Entries close September , 2021
Click below for Premium List:
Agility Prem
Sept 2021 when available
October AKC All-Breed AGILITY TRIALS
FORT DETROIT GOLDEN RETRIEVER CLUB, INC.
October , 2021
All Dogs Can in Lapeer, MI
Entries open September , 2021
Entries close October , 2021

Click below for Premium List:
FDGRC Oct 2021 when available
MISSION STATEMENT:

To encourage members to strive to perfect pure-bred Golden Retrievers that possess the temperament, soundness, natural ability, intelligence and balance that are representative of the breed, and to do all possible to advance the development of these essential qualities.

To urge members and breeders to accept the standard of the breed as approved by the American Kennel Club as the only standard of excellence by which the Golden Retriever shall be judged.

To do all in its power to protect and advance the interest of the breed by encouraging members and others to follow the Club's guidance in breeding practices, and to encourage sportsmanlike participation at dog shows, field trials and tests, obedience trials and tracking tests.

To offer all events for which the club is eligible under the rules and regulations of The American Kennel Club and the Golden Retriever Club of America.

IMPORTANT ANNOUNCEMENT:
The Golden Retriever Foundation (GRF) has started a program to pay for the CERF/ECR registrations for senior Golden Retrievers (over 8 years old).  
Click for details
GRF
.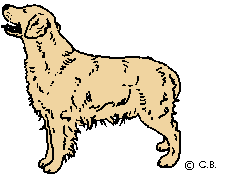 ,